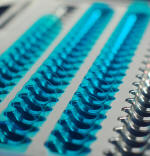 Infrared (IR) cut-off filters are used with color CCD or CMOS imagers to produce accurate color images. An IR cut-off filter blocks the transmission of the infrared while passing the visible. This can be done with two optical techniques: absorption or reflection. Absorptive filters are made with special optical glass that absorbs near infrared radiation. Reflection type filters are short-pass interference filters that reflect infrared light with high efficiency.
We offer two types of absorptive IR cut-off filters, IRC20 and IRC21, and two types of reflective IR filters, IRC30 and IRC40. The IRC40 is a specialized reflective filter suitable for day/night cameras that allows both visible and 850nm infrared LED light to transmit. The absorptive filters are recommended for CCD imagers while the reflective are recommended for CMOS imagers. Our standard off-the-shelf filters are listed below. If you need a custom filter, please contact our support.
Narrow down IR cut-off filter choices by the following options:
General Specifications:
Parameter
Value
Default unit
mm
Default effective aperture
90%
Material
Schott D263T or BK7 equivalent for coating filters
Absorptive optical glasses for absorptive filters
Dimensional tolerance:
+/-0.1mm typical
Thickness(mm):
Coating filters: Schott D263T glass: 0.3, 0.5, 0.7 and 1.0mm. Other thickness available for BK7 glass
Absorptive filters: determined by the absorption requirement
Surface quality
60/40 scratch/dig. Grade 20/10 or better is also available on custom basis.
Spectral transmittance (typical values, not specifications)
---
Database Results Error
Provider cannot be found. It may not be properly installed.